Submitted by

tdodson

on June 19, 2013 - 1:20pm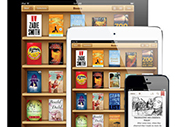 Apple's iBooks format can provide rich, interactive reading experiences that the most common eBook formats, EPUB 2.0 and Mobi/AZW, just can't match. Also, Apple provides a free, powerful, and easy-to-use application, iBooks Author, for creating iBooks. A major limitation of the format, however, has been that iBooks can only be displayed on iPads. Period.
Educators and textbook publishers immediately saw the value of the new features offered by the iBooks format: built-in quizzes, embedded videos, slideshows, interactive illustrations, etc. However, in order to take advantage of the features of an iBook, students have had to purchase (or be provided with) iPads. Even students heading off to college toting shiny new MacBooks and MacBook Airs couldn't access their iBook textbooks on those devices. The limitation has been vexing to developers as well---it's meant that even users of iBooks Author on their desktop and laptops have needed to move their working drafts to an iPad just to preview a change (a frustrating and inefficient workflow)!
Well, those days are almost over. Apple has announced that the next version of its iBooks app will work on Apple desktops and laptops. Although it may hurt Apple's sales of iPads, opening up iBooks to laptops and desktops will no doubt draw more users and developers to the format.